Natural homemade products, products made from aromatic herbs and oils, gift packages, Istrian souvenirs, candy boxes for special occasions
Natural homemade products
Istrian homemade products prepared with natural ingredients
Istrian biscuits are prepared from flour (type-500, wholemeal flour can also be used), sugar, vanilla sugar, Istrian brandy (in a small amount), powdered sugar, eggs, butter… They do not contain additional preservatives. We offer several types of biscuits: Istrian dry biscuits, biscuits with edible lavender, walnuts, almonds. Biscuits are packed in plastic boxes and have a declaration. Various packages are available, the price depends on the weight of the package:
package of biscuits of 100 g
package of biscuits of 200 g
Istrian dry biscuits – 1 kg
Istrian biscuits with lavender, or walnut or almond – 1 kg
We also prepare cakes and bread to order.
The teas are prepared from naturally grown domestic herbs. They are packed in transparent bags with a declaration, which contain 50 g of tea. We offer several teas:
melissa tea 50 g – treats stress, depression, anxiety, protects against stress, fears, reduces nervousness and helps with insomnia
sage tea 50 g – has antibacterial, antifungal and antiseptic effects, purifies the blood, lowers temperature and relieves pain, regulates the work of the intestines and stomach, helps with bleeding and inflammation, helps with throat diseases, strong coughs, migraines and rheumatism
mint tea 50 g – cures stress, protects against stress, fears, regulates digestion, helps with stomach problems such as gastritis and heartburn and stomach ulcers
rosehip tea 150 g – rich in vitamin C it is used to treat sore throats, colds, remove kidney stones, as a diuretic, to eliminate indigestion and a laxative, to purify the blood
Natural jams without sugar and preservatives, with the addition of Stevia, made according to our grandmother's recipe, from our own fruit (apple, cherry, peach, kiwi, plum, quince, fig, ciburi, oskorusha).
Jams are suitable for diabetics and all types of diets.
Available in packages of 210 ml, 250 ml and 370 ml.
Jams are also available in packages as a combination of various types of jams.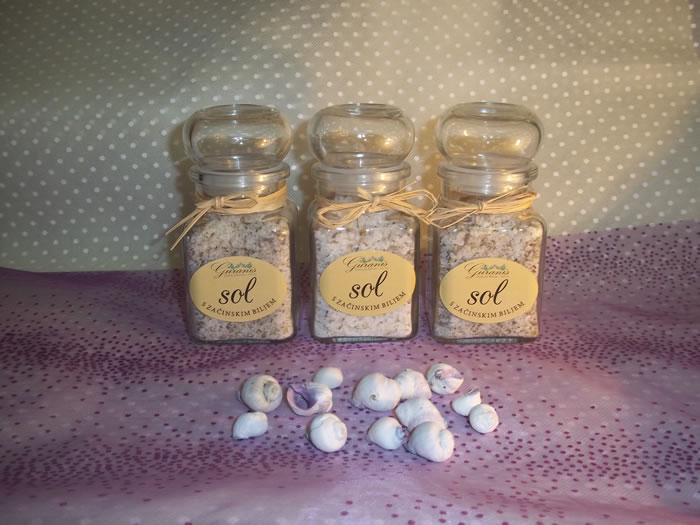 Salt with herbs can be used as an addition to any dish to enrich the taste, or as an aromatic bath salt.
It is packed in jars, with the addition of parsley, lemon balm, lavender, thyme, rosemary… If we use it for bathing, it serves to detoxify the whole body, has a relaxing and calming effect. It helps with tension and stress, brings the body into a general state of balance.
Salt with herbs is available in two packages:
aroma salt 210g
aroma salt 240g
Sun-dried tomatoes in oil
Homemade tomatoes, naturally dried and put in olive oil, with added salt, without preservatives.
Dried tomatoes are packed in 250g jars.
Dried herbs (rosemary, sage, bay, parsley, celery) are packed in 50 g jars, with a declaration.
Dried herbs are a perfect addition, i.e. spice, to dishes (game, marinades, lamb, kid, rabbit, etc.).